Delivery & Collection Service
Why not make your hire even more hassle free by using our Nationwide Delivery and Collection service?
From as little as £1 per mile you could have our specially trained drivers deliver your hire vehicle straight to your door, allowing you that extra time to prepare for your forthcoming journey.
Our Collection and Delivery serviced is designed to make your hire easier. You can choose from either our combined collection and delivery or choose our one way delivery / collection only option depending on your requirements.
Booking couldn't be simpler. All we need is the postcode of your chosen delivery point and you will be given an instant quote. Delivery and Collection can be booked either alongside your hire booking or at a later date. However, if you are booking this service at a later date, please allow us as much notice as possible to avoid disappointment at busy periods.
Please ensure you are available to take receipt of your hire vehicle and have the relevant documentation and deposit ready for the delivery driver.

Whoever signed for the vehicle on delivery/ pick up is also required to be present when the vehicle is collected and checked. After which your documents and deposit will be returned to you.
Delivery and Collection time are as shown below:
AM Delivery / Collection 8am – 10am
PM Delivery / Collection 3pm – 5pm
*Please inform us at time of booking if you have any special requirements.
* Deposit will be fully refunded provided the vehicle is returned as presented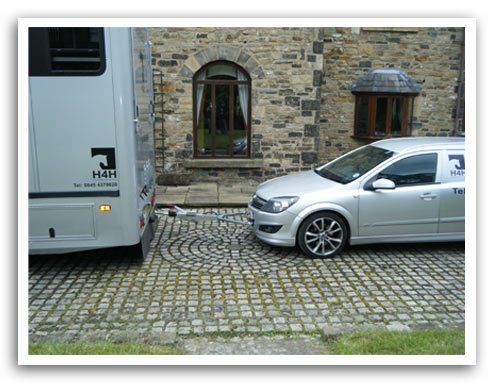 Booking Information
Remember: Before you can take receipt of your hire vehicle remember to bring the relevant documentation and deposit along with you.
A copy of each drivers full Driving Licence.
The driving license counterpart is now obsolete. You will therefore need to provide a DVLA check code by accessing https://www.gov.uk/view-driving-license This code is valid for 21 days and will need to be provided prior to hire along with the last 8 digits of your driving license number.
*Two recent Utility Bills
Either Gas, Water or Electric. Other bills cannot be accepted.
*£100 fully refundable CASH deposit
Clients travelling abroad may be asked for an increased deposit.
The person providing the Utility Bills must be the person signing for the vehicle at point of hire. The same person must also accompany the vehicle when it is returned/collected.
Provide-a-driver
Going on a long journey and would prefer someone else to take the wheel? Perhaps you are a little nervous of driving a larger vehicle? We can help.
Our drivers provide a safe and valuable solution. Prices on application.